The brightest flashlights to watch out for in 2022
What's the brightest flashlight in 2022? The short answer is that the IMALENT MS18 is brighter than any other flashlight you can buy in 2022. There's a few other bright flashlights that you might want to check out though.
2021 was an exciting year for flashlights and 2022 is already looking to be even better. Flashlight technology has improved considerably in the past few years, with new LED technology and higher power batteries resulting in more powerful flashlights than ever.
IMALENT are well known for their MS18 flashlight, which is the brightest in the world. This year IMALENT have released new brightest flashlights in different size classes.
The brightest flashlight in 4 size categories
The biggest flashlights are the brightest and most powerful, as they can have the most LEDs and battery cells. Having a big, heavy flashlight isn't always best though, as some situations call for a more portable flashlight.
Smaller flashlights that fit in a pocket are still very bright but not nearly as powerful as one you need to carry with 2 hands. Thankfully, thanks to modern li-ion battery technology and CREE LEDs, even the world's brightest flashlight can be carried with 1 hand.
The brightest flashlight in 2022: IMALENT MS18
If size is not a concern then pick the IMALENT MS18. The MS18 pumps out an amazing 100,000 lumens. This is much brighter than 10 cars with full beam headlights on. In fact the light from the MS18 is so bright, it will spread out larger than a big field and easily light things up over 1km away.
The IMALENT MS18 is fairly big and comes with a built in battery pack, comprising 8 21700 li-ion cells. This allows the light to run for hours and hours on the low and medium modes. Despite the immense power of the MS18, it's still less than 2kg in weight and comes with a high quality strap for easy carry.
As you'd expect, the MS18 comes with a built-in battery charger. This allows you to recharge the light in just a few hours.
The brightest flashlight in 2022 gets its incredible output from the 18 LEDs. These are cool white CREE XHP70.2 LEDs, which can output over 5000 lumens each.
The MS18 is so powerful, it uses a pair of fans to help keep it cool. These allow the light to run for longer on high modes without overheating. The flashlight also has intelligent temperature regulation, which will control the output if the light starts to get too hot.
You might be wondering what such a bright flashlight can be used for. The long distance beam combined with wide area light makes the MS18 the perfect tool for security professionals who are looking after a large area. It's also a great flashlight for surveillance, spotting animals, people or anything else at night. The MS18 is used by search and rescue (S&R) teams, as having the best tools available is essential for saving lives. Law enforcement and military personnel also use the MS18: for manhunts, lighting disaster scenes and emergency management.
The IMALENT MS18 is not a toy but as well as for professional - use where there is a need for the most powerful flashlight - many people buy the MS18 just because they want to own the world's brightest flashlight and see the astounding amount of light for themselves.
The MS18 is made of anodised aluminum, with a mineral glass lens. This makes the MS18 a rugged light, with an impact resistance of 1.5m. It's also waterproof to IP56, for use in any environment.
No other flashlight in the world beats the IMALENT MS18 for power. If you only get one flashlight in 2022, make it the brightest one, the IMALENT MS18.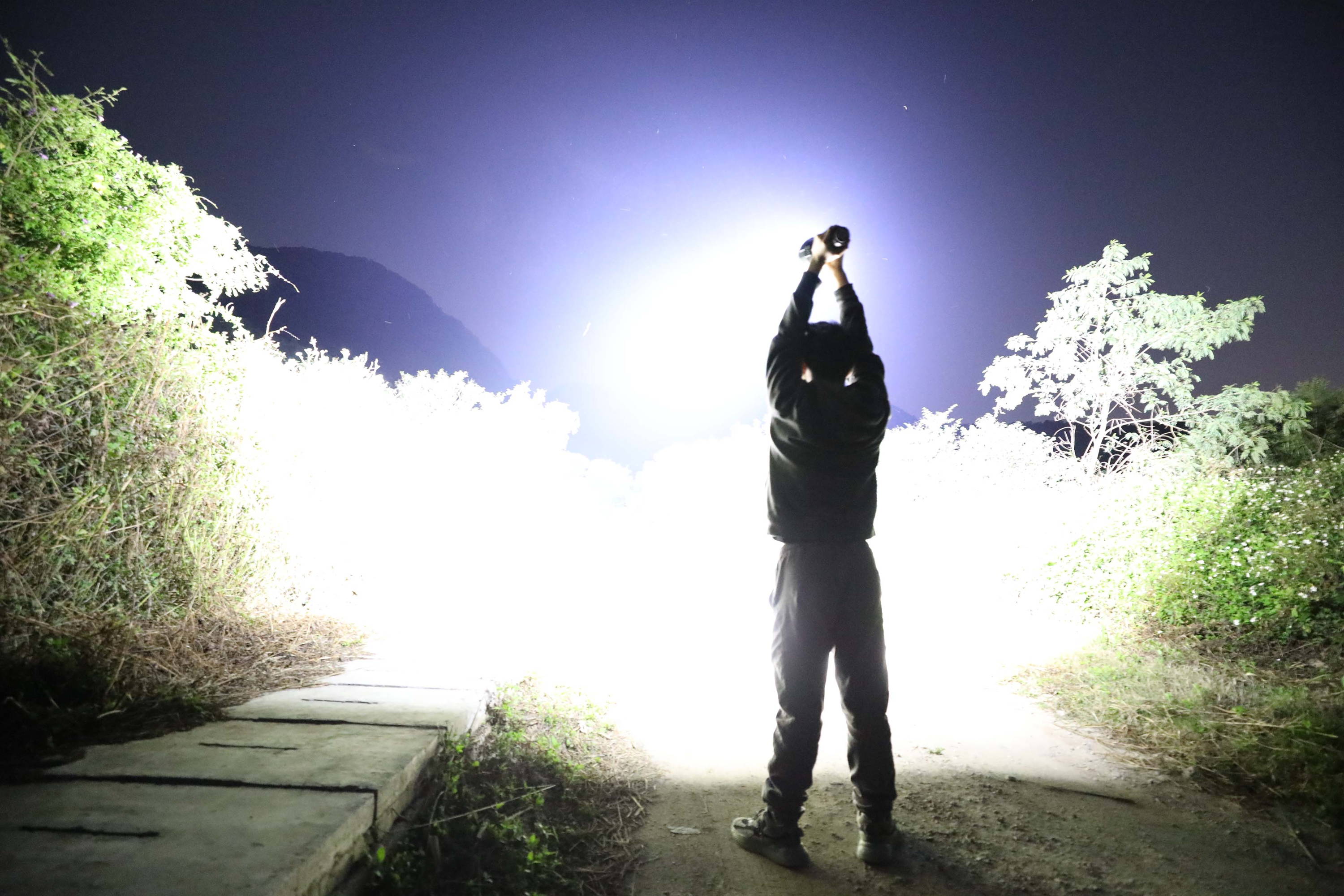 The brightest flashlight in can size: IMALENT MS12MINI
If you're after a flashlight that can fit in a jacket pocket or can be carried in a holster, the IMALENT MS12MINI is for you. The MS12MINI was released in 2022 and is the brightest flashlight released this year.
These size lights are often called soda can or soup can flashlights due to their size. They won't fit in a trouser pocket like an EDC light but they can easily slip into a bag and be carried almost anywhere.
It might be mini in name but it's not mini by nature. Although it's about half the size and weight of the big MS18, the MS12MINI produces 65,000 lumens on turbo. This is the brightest can size light of 2022.
The MS12MINI is powered by a specially designed power pack, containing 4 high discharge 21700 cells. The battery pack powers the 12 LEDs, producing almost twice as many lumens as any other flashlight it's size.
New for 2022 is the CREE XHP70.3 series of LEDs, which provide some benefit over the second generation LEDs. IMALENT have produced two versions of the MS12MINI: one with the same type of XHP70.2 LEDs as used by the MS18 and one with CREE's latest XHP70.3 LEDs. IMALENT have used XHP70.3 HI LEDs, with the HI denoting high intensity. These LEDs are still incredibly bright but also provide the light with a greater beam distance. Both options result in a very powerful light.
All this new technology makes the MS12MINI a sight to be seen. Especially considering its size, being able to carry the MS12MINI so easily means you can now bring 65,000 lumens of daylight with you wherever you go. This is a significant step up from the MS06 and MS08 from just last year, which are in the same size class but are slightly smaller and still a very bright 25,000 lumens and 34,000 lumens respectively. IMALENT also has the RS50 can size light, which not only is bright but also had a beam distance of 1160m, thanks to the latest CREE XHP50.3 HI LEDs.
The MS12MINI is great for professional and industrial use like search and rescue or security. It's also perfect for carrying when hiking, camping or exploring caves as it can be carried in a holster or a large jacket pocket.
You can charge the MS12MINI with the easy to use charging, allowing the flashlight to get back up to full power quickly.
The MS12MINI also has low and medium modes that allow you to use the light for a long time. With the simple mode selection, you can either pick the brightest light you've ever seen, or one of the lower modes, which will sustain a few thousand lumens for many hours. Even the low or medium modes are easily enough to light up a room if there's a power cut or light up an area outdoors when camping.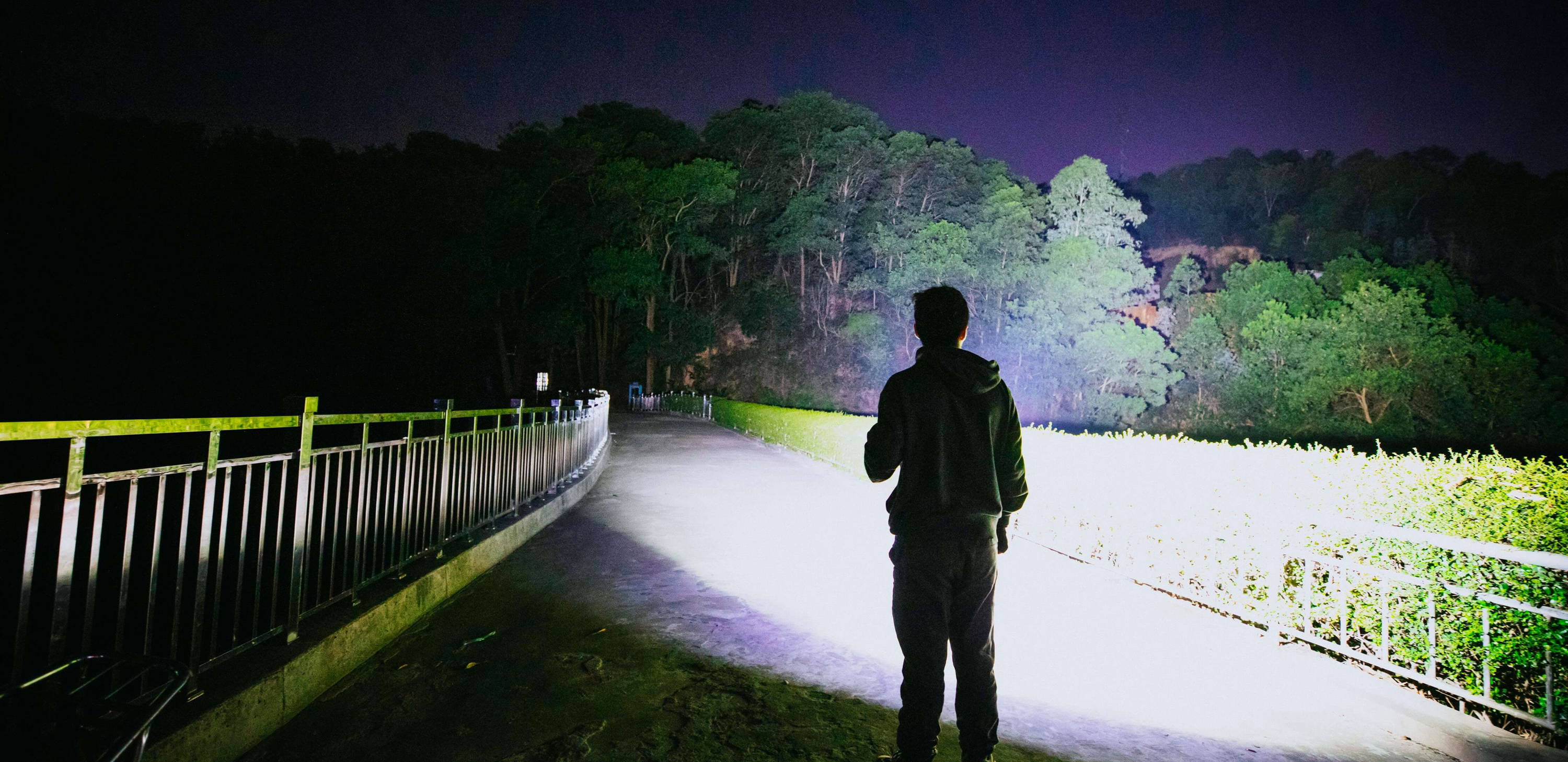 The brightest EDC flashlight: IMALENT MS03
The next size down is EDC (every day carry) flashlights. Powerful EDC flashlights normally use a single cell battery and not as many LEDs as larger lights.
The IMALENT MS03 is the brightest EDC flashlight at a massive 13,000 lumens. It's an EDC light, so can be slipped into a pocket or attached to a small holster. If you carry the MS03 as your EDC flashlight then you'll have more light to hand than anyone else. Standard EDC lights are now up to 1000 or 2000 lumens but the more powerful MS03 literally outshines them many times, whilst still being only 4.3 inches (110mm) long.
The MS03 uses the same high output CREE XHP70.2 LEDs as many other lights from IMALENT, such as the MS12. These have a lifespan of 50,000 hours and are well known for their output and efficiency.
EDC flashlights are great for people who do night shifts in jobs like security or law enforcement. With the MS03 in your pocket or on a holster every day, having the brightest EDC flashlight of 2022 means you can light up a large area at any time. This is great for situational awareness or identifying threats.
On the low and medium modes, the MS03 will last up to 27 hours of constant use. Don't worry if you do manage to use up the battery. The battery in the MS03 charges via a handy USB-C port and it's removable, so you can swap in a spare if you have a long shift.
Not quite as bright as the MS03 is the IMALENT R30C. This bright EDC flashlight is the same size but uses LEDs that are designed for long distance.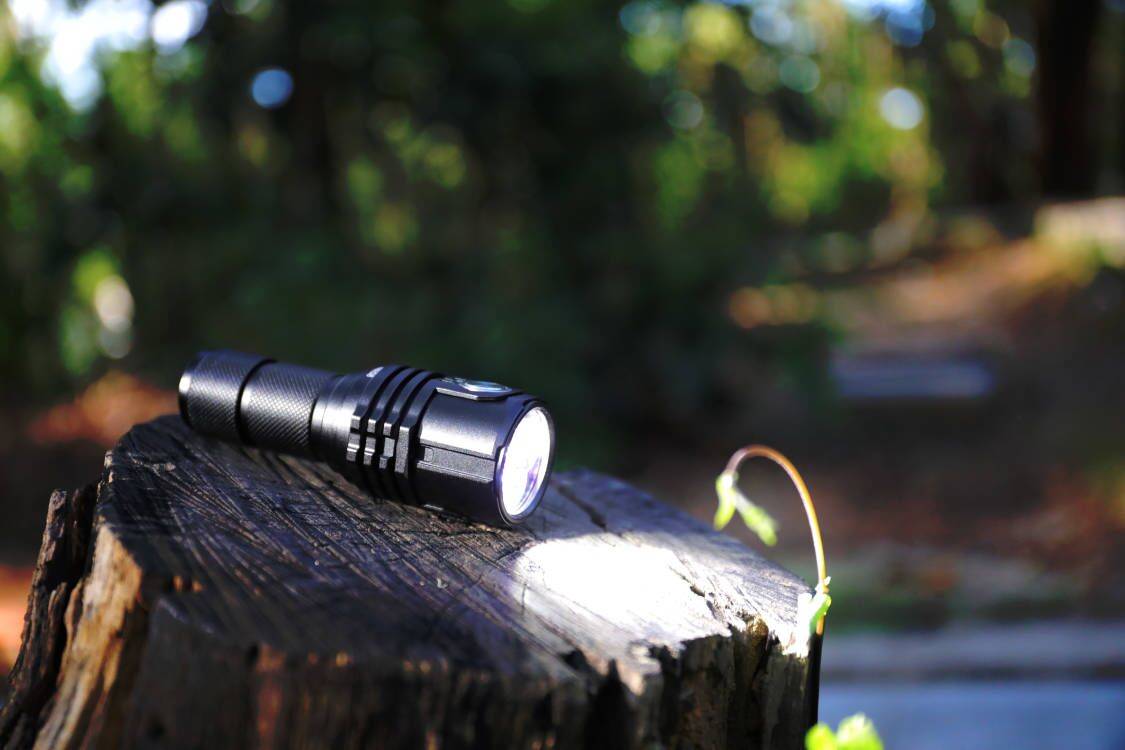 The brightest mini flashlight: IMALENT LD70
The MS03 is small enough to be carried every day but you might be after a flashlight that's even smaller. The IMALENT LD70 is about the same size as a car key fob and outputs up to 4000 lumens on turbo. It comes with a lanyard too, so it is easy to carry.
If you want a bright mini flashlight that can fit in a small pocket, on a keychain or in a purse then the LD70 is right for you. The IMALENT LD70 is the brightest mini flashlight available, thanks to its use of a CREE XHP70.2 LED.
4000 lumens may sound much less than some of the other bright flashlights but it's still an immense amount of light. Many standard keychain lights are about 20 lumens, which is the same as the low mode of the LD70. The brightest turbo mode on the LD70 is up to 50 times brighter!
The LD70 is also IMALENT's cheapest bright light and the best option for a low budget powerful light. Weighing 3oz (87g), you can keep it on you 24/7 and have a strong flashlight always available.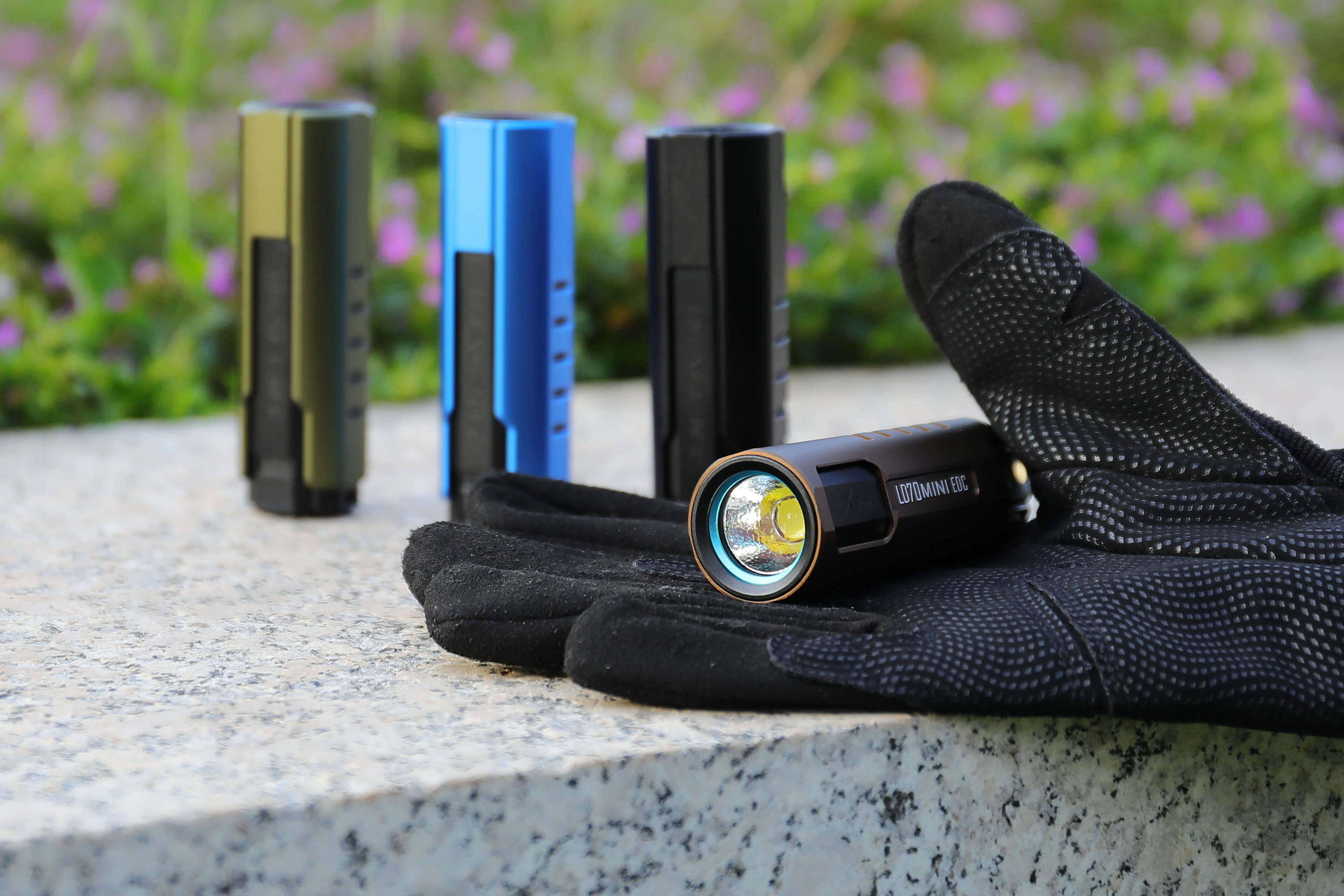 It's clear that IMALENT has you covered if you need the brightest flashlight for any use. Some of the new flashlights of 2022 are even more powerful than last year's and a significant upgrade in flashlight technology.

The IMALENT MS18 is still the king of flashlights and has the highest output in the world. This is perfect when you need the best option available.
If you want something smaller then there's plenty of other great options too. From the can size MS12MINI to the more pocketable MS03 or LD70.
Whatever IMALENT flashlight you pick, it's sure to be brighter than you thought possible.